The future of IT is here now
Whether you want an offsite server with access from your network or the full virtual desktop solution, we can help move your business to the cloud in an efficient and cost effective way. Never have to worry about buying expensive servers or having to worry about downtime and equipment failures again. Access your virtual desktop with access to your network  from anywhere in the world, from any PC, tablet or even your phone. Full encryption and the latest security and the peace of mind that your data is secure and backed up regularly.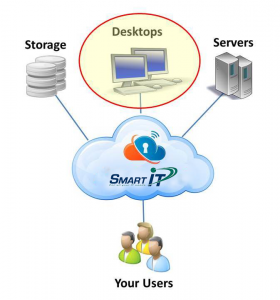 Online backup service, also known as cloud backup or backup-as-a service is a method of offsite data storage in which files, folders, or the entire contents of a hard drive are regularly backed up on a remote server or computer with a network connection. The purpose behind online backup is simple and straightforward: To protect the information – be it business data or personal – from the risk of loss associated with fire, theft, hacking, or any other kind of technological disasters.
The following are the top five benefits of online backup:
The convenience offered by online backup solutions is indisputable. Though data can be stored on other transportable devices such as external hard drives or flash drives, even they require manual, physical handling. Online backup is accessible from anywhere, so long as there is internet connectivity; information is saved automatically as it streams in. You do not have to proactively save, label and track information. Rather, the convenience of online backup allows for you to concentrate solely on your work without worrying about data loss.
As your data is stored in the Cloud, you are not subject to the typical threats of fire, flooding or theft. In fact, data that is stored in the Cloud is generally stored on secure, encrypted servers and systems, which minimizes the risks your data can incur. However, it must be noted that while some cloud storages do tout encryption services, you can never be too secure – and depending on the type of data that you're looking to store, you may want to invest in additional cloud security services.

Due to multiple levels of redundancy, if data is lost or deleted, most likely through individual user error or deletion, backups are available and easily located. Multiple levels of redundancy means that your online backup service stores multiple copies of your data in locations independent of each other. The more levels you have stored, the better as each ensures that your data is safeguarded against loss as much as possible, allowing you to access a backed up version of your data should it ever get lost.
As the Cloud has no singular physical location, remote access is also a simple and feasible benefit to online backup. So long as you can connect to the remote server, you have access to all the data that you have stored in the Cloud, without having to do anything differently. From wherever your contact point is, gaining access to your information backed up online from your remote device is done the same way, ensuring consistency and an easy approach across platforms.
Cloud-based back up can be less expensive than the cost of tape drives, servers, or other hardware and software elements necessary to perform the back up; the media on which the backups are stored; the transportation of media to a remote location for safekeeping; and the IT labor required to manage and troubleshoot backup systems.